This page is dedicated to past members of the New Brunswick Wildlife Federation.

---
STUART (STU) DUNCAN
1998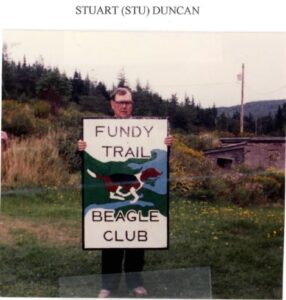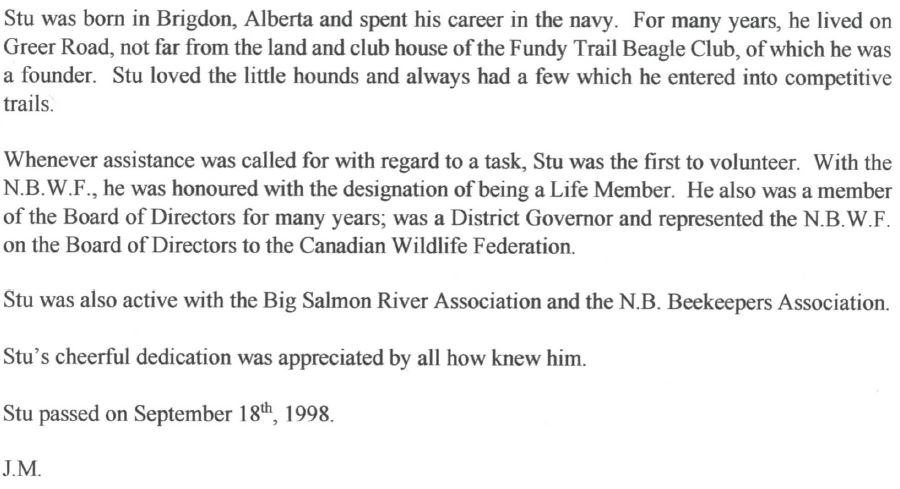 ---
ANTHONY (TONY) LANGEN
1909 – 2008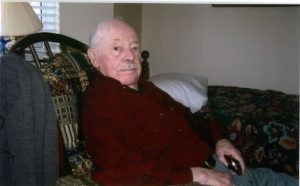 A dedicated sportsman and wildlife conservationist who made the effort to make a difference.
A WWII veteran, Tony served with the RCAF from 1940 to 1961 and was employed by the Department of National Defence, Logistics Branch, No. 5 Supply Depot, Moncton from 1962 until his retirement in 1974.
From the early 1970's to shortly before his passing, Tony held numerous positions with the N.B.W.F. and also the C.W.F. where he was a member of the C.W.F. Board of Directors.
Tony held the office as President of the N.B.W.F. in 1972-1973 and returned to the position in 1978-1979. He also was a 1st VP and 2nd VP and District Governor, South East. He had a keen interest in forestry and held the position of Forestry Committee Chair for many years and was the N.B.W.F. Director on the Canadian Forestry Association of N.B. At the 1974 N.B.W.F. AGM, Tony donated an award to be presented to the Branch with the most forestry related activities. The "Tony Langen Forestry Award" continues to be awarded annually nearly fifty years later.
Tony was also the N.B.W.F. representative on the Restigouche River Zone Management Committee.
Tony's efforts were recognized by his peers and he was the recipient of the N.B.W.F. 1985 "Sportsman of the Year Award" and the 1988 N.B.W.F. "Appreciation Award". In 1980, he was named as a N.B.W.F. Honourary Life Member, a position for which he took a very active role.
Tony's outdoor passion was hunting deer and grouse and fishing for Atlantic salmon. For years, he and his wife Mary had a trailer at Quarryville. This enabled him to spend many hours fishing the Renous and the South Sevogle where his favourite spot was the Hovel Pool.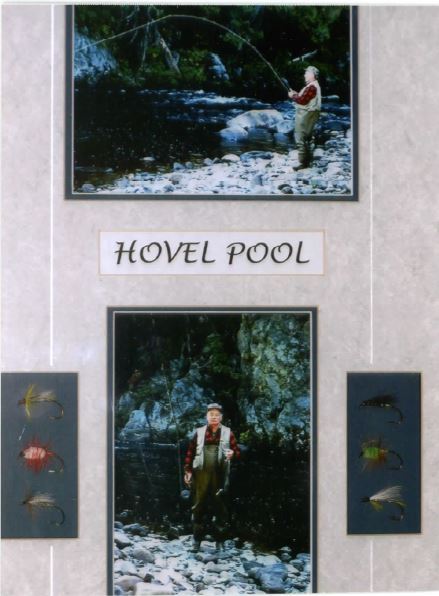 He was an eager participant of Crown Reserve opportunities. One of his most memorable trips, and at the age of 90, was with his son Michael and grandson, Jeffrey, when they all caught grilse.
One of the functions Tony performed at every N.B.W.F. AGM Banquet was to read the "Sportsman's Grace" which he ended with a line which always brought a chuckle from those in attendance: "Good Food… Good Meat… Good Friends… Let's Eat."
Prepared by
J. M.
---
TERRY CRAIG
2013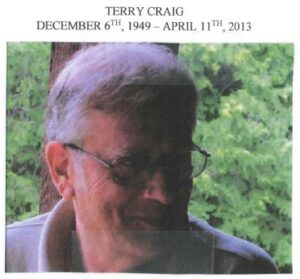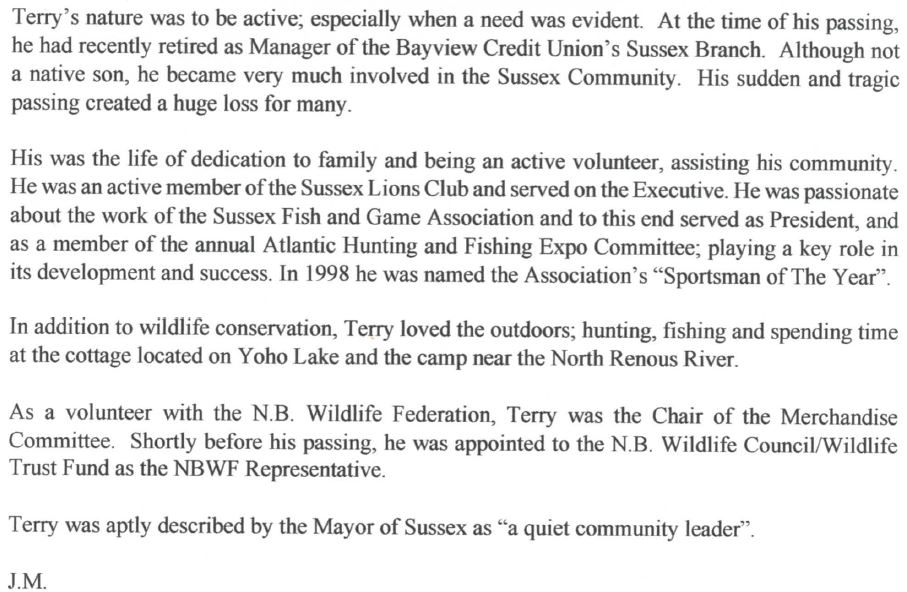 ---
DANIEL "DAN" FOWLER
1935 – 2014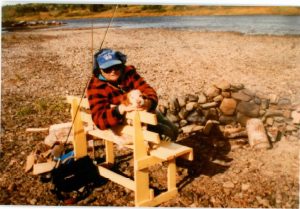 Dan was the epitome of an outdoors man and wildlife conservationist. His career as an Air Traffic Controller with its shift scheduling allowed him the opportunity to maximize his time as a guide, outfitter, hunter and angler.
He guided for his friend, Fred Webb at his outfitting lodge located in the Tobique country. Lee Wulff was one of a number luminaries guided by Dan.
After retirement, Dan built Nash Bar Lodge located downriver from Blackville on the Southwest Miramichi River. With the assistance of his wife, Phyllis, the lodge gained an international reputation with guests such as John Randolph, Editor and Publisher of Fly Fisherman Magazine.
Dan's passions were hunting and fishing. He hunted racoons and bobcats with the big hounds. Many nights were spent running after the dogs as they chased a critter to tree. He also hunted grouse with the companionship of his Brittany and stalked deer in the hardwood ridges and mountains.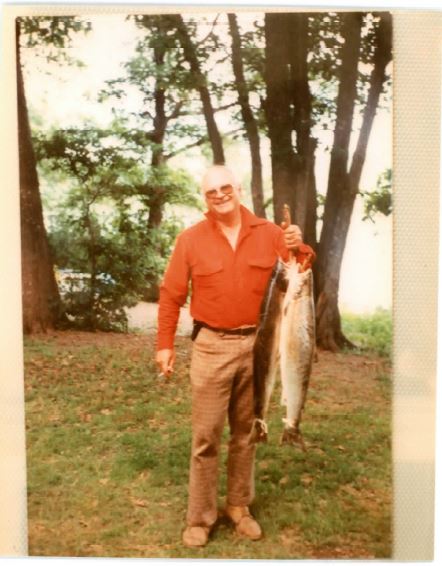 Dan began his role as a concerned wildlife conservationist as a member of the Moncton Fish & Game Association in the early 1970s. He went on to hold the positions of Secretary and later President of the Association. He was one of a small committee of fellow Air Traffic Controllers who established the Association's first Annual Fund-Raising Sportsmen's Supper in 1974, and which has continued for nearly fifty years.
Dan represented the Moncton Fish and Game Association as its Director on the Board of the N.B. Wildlife Federation and went on to hold the positions of 1st V.P., Secretary, President, Honourary Life Member and N.B.W.F. Director on the Canadian Wildlife Federation.
Two years before his retirement, Dan transferred to the Federal Department of Fisheries and Oceans (DFO), and worked on fish habitat in Atlantic Canada.
Dan loved to fish Atlantic salmon however, he never missed an opportunity to cast a line for any species available. He was an excellent mentor to anyone who was fortunate to join his adventures.
Dan Fowler: Guide, Outfitter, Angler, Hunter, Wildlife Conservationist and Mentor.
Prepared by
J.M.
---
EDWARD (ED) SHERRARD
2015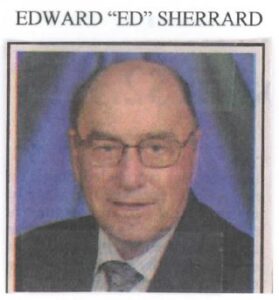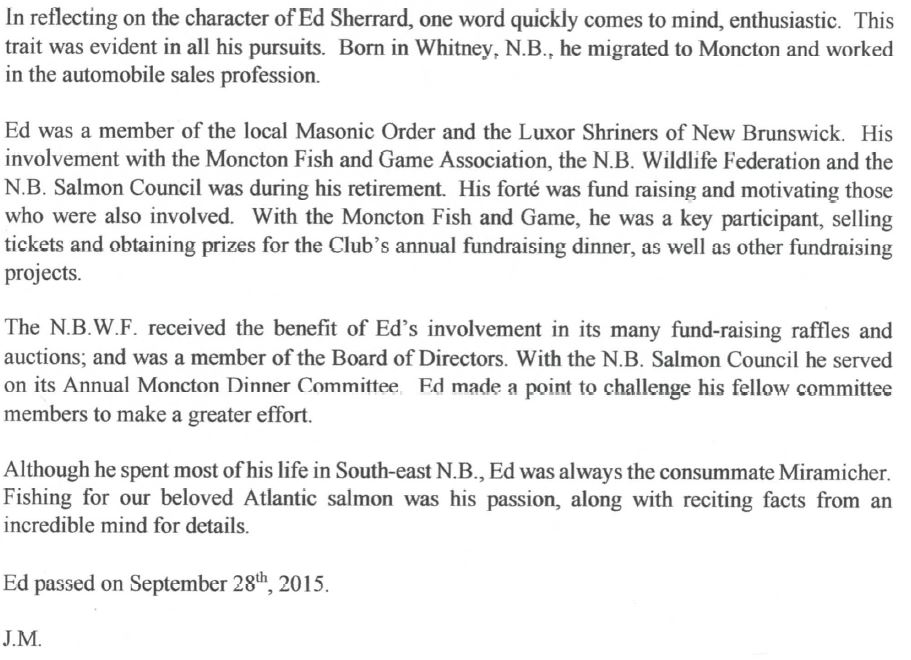 ---
FRED WHEATON
2016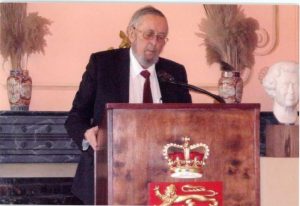 On October 2nd 2016, the wildlife conservation community lost a dedicated volunteer and our Atlantic salmon lost its champion. As mentioned in Fred's obituary: "besides being a devout gardener and superior cook, he was an avid angler and was fiercely committed to the cause of salmon conservation. He believed that fishing was the birthright of all New Brunswickers, and worked tirelessly to support recreational fishing for current and future generations".
The N.B.W.F. family knew Fred as our long standing Fish Committee Chair. He served in that capacity for 41 years under 16 different Presidents.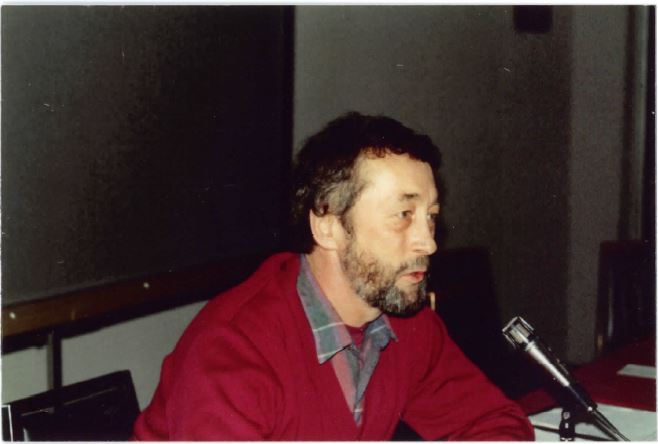 Fred also held the following N.B.W.F. positions:
1972- 1974 – Treasurer
1983 – 1985 – 2nd Vice-President
1985 – 1986 – 1st Vice-President
Director to the Canadian Wildlife Federation Board of Directors and member of the CWF Fisheries Committee.
Over the years, Fred held many conservation positions outside the N.B.W.F.
Charter Member of Save Our Salmon group in 1978 which evolved into the N.B. Salmon Council. He served as Director and Vice-President of the N.B.S.C.
Founding member of the N.B. Wildlife Council/Trust Fund.
Vice-Chair and then Chair of the N.B. Fish & Wildlife Advisory Board.
Member of the N.B. Sportsfish Advisory Council.
Original member of the Selection Committee for the Canada Recreational Fisheries Awards.
Member of the N.B. Advisory Committee for the Atlantic Salmon Conservation Foundation.
Member of Canadian Wildlife Federation Fisheries Committee, travelling nationwide to contribute to a book entitled "

Rising To The Challenge

" by Dr. Peter Pearse.
Was active in the Canada-New Brunswick Co-Operative Agreement on Recreational Angling, including preparation of an in depth analysis of the 1992-96 program.
As a result of his dedicated leadership in wildlife conservation, Fred received a number of awards including:
2012- N.B. Salmon Council's "Lieutenant Governor's Award for Wild Atlantic Salmon Conservation"
1984, 1987 – N.B.W.F. Sportsman of the Year Award "Honours the person or persons who, through their activities and responsibilities with the NBWF and its Branches, have exemplified tireless dedication and sacrifice for the cause of conservation."
1988- Canadian Wildlife Federation, Roderick Haig Brown Award, "for having played a role in ending commercial fisheries for wild Atlantic salmon and in promoting the immense conservation value of ending the recreational harvest of large Atlantic salmon in 1984."
Named to the Atlantic Salmon Federation's Roll of Honour.
Moncton Fish & Game Honourary Life Member.
N.B.W.F. Honourary L ife Member.
In 1987, N.B.W.F. Poet Laureate, the late Clayton Harrison, wrote a poem about the Atlantic salmon entitled "Miramichi Beauty" and dedicated it to Fred "for his tireless efforts to save our Atlantic salmon."
Fred was a man of many hats; a champion of N.B.'s recreational fish, advisory to Sportsmen and governments, businessman, athlete, a lover of wild spaces, mentor and friend.
Prepared by
J. M.
---
VINCENT COMEAU
2019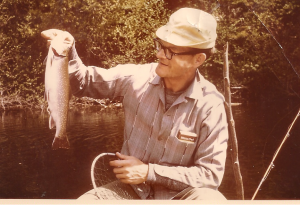 Since he was just 12 years of age Vincent helped his father cutting wood along the Big Tracadie River. Once he got closer to finish high school, every summer he would work in the woods to save money for his university years. That is where he developed a passion for the outdoors and became in love with any outdoor activity. Vincent received his teaching bachelor diploma from the Université de Moncton and a master in education in France. He left N.B. to start his career in Northern Québec where he got a job for the Dept. of Indian Affairs looking after the school system on some of the Native Reserves. After that stint away, he came back with his wife Hilda, to his home town of Tracadie N.B., in the Péninsule Acadienne to persue his teaching career as the principal of a new school, Polyvalente W.A Losier.
Because of his passion, he started to get very much involved with different groups to promote the outdoors. From 1973 to 1978, he was the president of a new outdoors festival called Bitowa.
In 1979, he became president of the N.B. Trappers Association. In 1981, he was made a life member of the N.B. Wildlife Federation in recognition of his work and time devoted to the federation. In 1999, himself and a few devoted people formed a new fish and game organisation , Club Chasse et Pêche de la Grande Rivièere Tracadie Inc., on which he was a board member until around 2018 when his health started to fail. During those years, with the fish and game club, he instigated a new association, the Big and Small Tracadie Watershed Association which he managed for many years and worked hard at restoring fish habitat.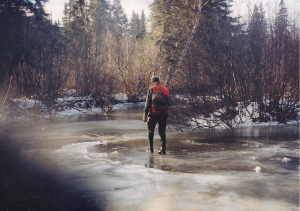 Vincent was an experienced trapper and probably because of his background in education, he loved to teach his passion for trapping. He became a volunteer trapper education instructor for the N.B. Trapper Education Program in 1998 and taught courses to hundreds of students. Over the years, his good trapping ethics made him an excellent mentor to many new trappers.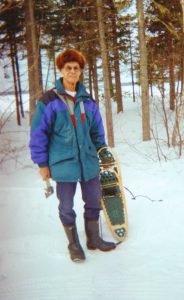 Vincent was also an excellent fly tier as he tied fishing flies for his brother who had a fishing supply store on the Restigouche. With his brothers Jean-Claude and Léonide, other than the rivers in his area, he also fished the Northwest Miramichi, the Sevogle and the Upsalquitch rivers.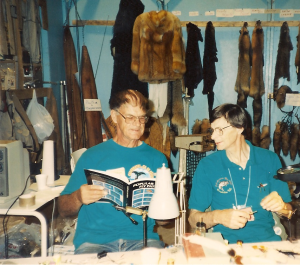 As another passion, he was an avid cross country skier. He became president of N.B. Cross Country Skiing from 1991 to 1995. He enjoyed that sport more than any other ones according to what he said many times and he competed in that sport as late as over 75 years old.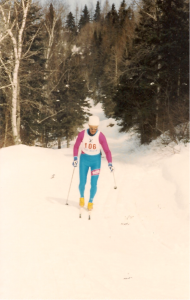 He had a lot of respect for Mother Nature and the Environment and proved it by his actions during his lifetime.
Thanks a million Vincent and in your new life, hopefully that the trails are perfect, the rivers full of fish and your traps full of fur.
by; G Sonier.
---
TERRENCED (TERRY) GENTILE
2022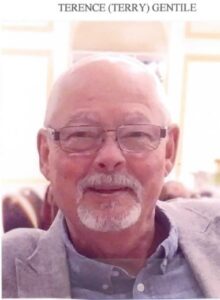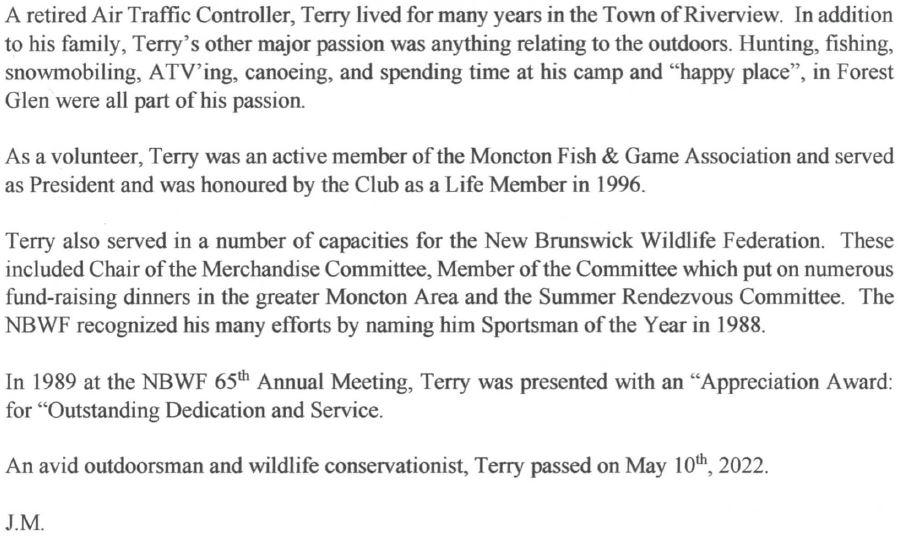 ---
BERTRAM (BERT) R. MCMILLAN
2023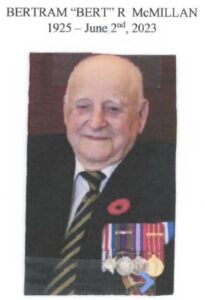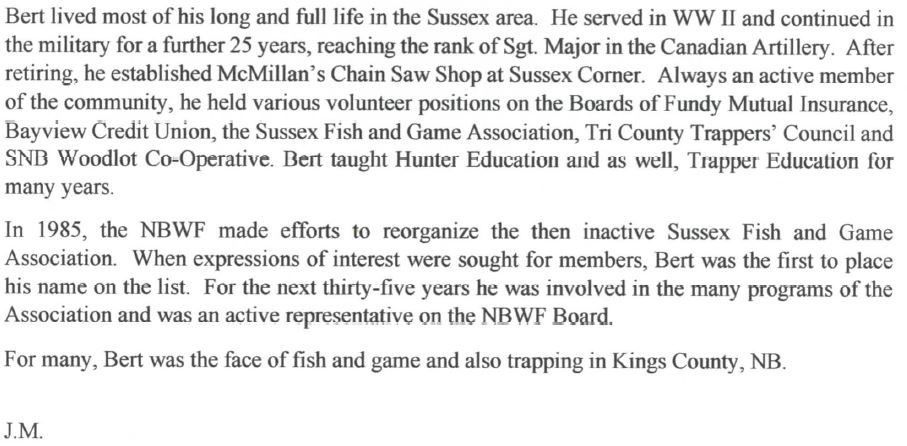 ---